Creating and exporting custom reports from different FantasticStay's tabs
FantasticStay's
Reporting
feature allows you to easily create reports on your revenue, properties, etc. In some cases, however, you might need a more customized report, aimed at certain type of information, available in the platform. For this purpose you could use the Export functionality of the grids, displaying the corresponding data.
For example, let's see how to create a custom report, showing all cancelled reservations during this year. To do so, you need to go to the Reservations tab and

1.
filter the needed information, using the dropdowns in the left pane.
2
.
add any additional information that you might need from the Edit Canvas button (see the images below)
3.
optionally, you can share the report directly via custom link. Important! Make sure to hide any information that you need to keep private. For example if you create a report for your cleaners (so they know when guests will arrive), remove private data like balance, names, etc. (by using (2) Edit Canvas ), before sharing the link.
4.
Export the report in CSV format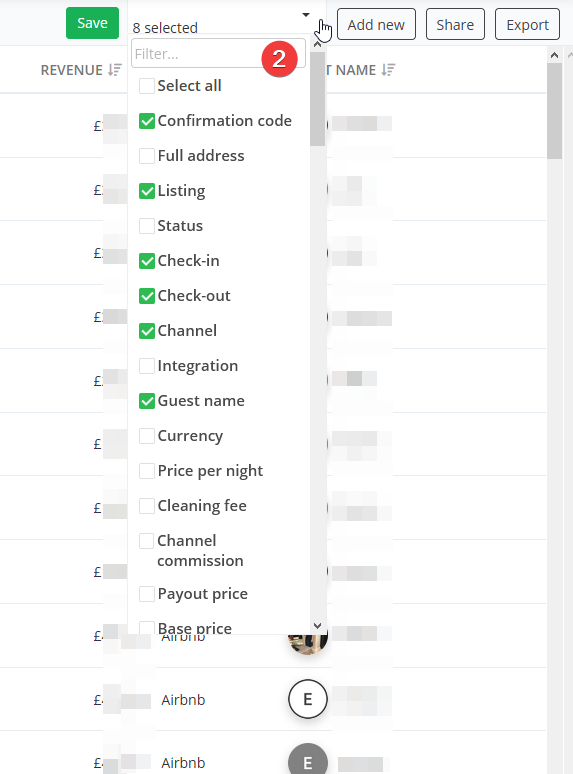 The CSV format is universal and can be opened with multiple apps, including MS Excel and Google Sheets.


This approach can be used for getting customized reports for Reservations, Listings, Reviews, Guests, Contacts and Transactions.
Related Articles

Reporting

The reporting section is essential for any host that wants to improve his revenue. In this section, you can generate reports using a broad range of filters on a portfolio level (multiple listings, per city). For individual reporting, you can generate ...

Custom Views

The possibility to create a vast list of custom views is a great asset, as those help you navigate easier and find what you're looking for way quicker. In our system, you can create custom views in the following sections: Reporting, Reservations, ...

How to set up custom Accounting view in Reservations

FantasticStay has a powerful reporting tool that can help you in your Accounting. You can create custom views that will only give you the relevant information you need. You can check our Article on Custom views Here While setting the view we ...

Getting Started with FantasticStay

FantasticStay is a robust Airbnb and Vacation Rental management platform that helps you manage your channels and listings, optimize your messaging, payments and team and save you time while doing it. We are property managers ourselves and throughout ...

Dynamic Variables

FantasticStay's Dynamic Variables ("DVs") are like smart placeholders for data. When used effectively, Dynamic Variables can be an extremely powerful tool for increasing efficiency in messages, automations, and saved replies. Each Dynamic Variable ...