How to map your listings with HomeAway
FantasticStay has a direct interface connection with HomeAway. This allows you to have instant synchronization of all of your HomeAway listings data.

This is a quick guide on how to connect your FantasticStay listings with HomeAway so that we can help you manage your reservations, pricing & availability effectively and automatically, increase your occupancy rate and prevent double bookings.

Let's get started:

Request a connection with FantasticStay to your HomeAway Account Manager.

It is crucial that HomeAway opens a connection project for you.
Prepare your listings on FantasticStay.

Go to Apps>HomeAway and select Connection Wizzard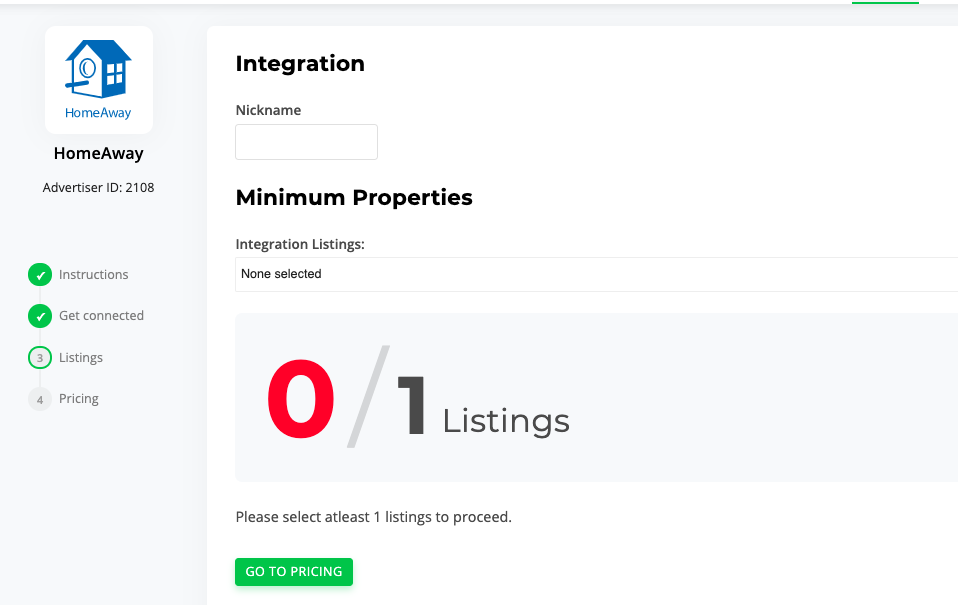 Insert a Nickname for your connection

Select the listings you wish to synchronize with HomeAway

Go
to
the Pricing section
to
:
Insert a Markup for your prices

Select a cancellation policy for your listings

Save!


At this point, the association between FantasticStay and HomeAway is created but the connection is not yet established.
HomeAway and FantasticStay will work together to finalize your connection project.
Related Articles

Listings

The Listings section provides you with the opportunity to keep track of your monthly revenue, occupancy rate, and average nightly rate. You have direct access to your listing calendar, the reservations for the given property, automation, settings, ...

How to quickly edit settings for multiple Listings

From FantasticStay the following fields can be easily updated across multiple Listings: FantasticStay services Listing Tags Security Deposit Cleaning Fee Extra Guest Fee Markup Owner revenue formula Net revenue formula Go to the Listings page Select ...

How to add custom fields to your listings?

To add custom fields to your listings, follow these steps: Go to the Listings section on your FantasticStay dashboard Select a listing On the left-hand side menu, choose Settings Stay in the General tab Scroll down to Custom fields Add new Save ...

How to set a specific check-in day for your Listings

From FantasticStay you have the possibility to set a check-in day restriction for your listings, across your entire calendar or for a specific date range. Follow the instructions below to restrict your check-in day across the entire calendar for a ...

How to push your new property to your connected channels

1) Create your property in Airbnb 2) Import your new property to FantasticStay by clicking Apps > Airbnb Upgraded > Upgrade on the relevant Airbnb account from which you created the new listing. After a quick synchronization, your new listing will be ...