How to import a new listing from Airbnb
To add a new listing to FantasticStay from an Airbnb profile no
t yet connected to FantasticStay

,

please follow these steps:
Go to the

Apps

section on your FantasticStay dashboard


Select Airbnb Upgraded

On the top left corner, click on the

Connect New Account

green button

Your page should look like this: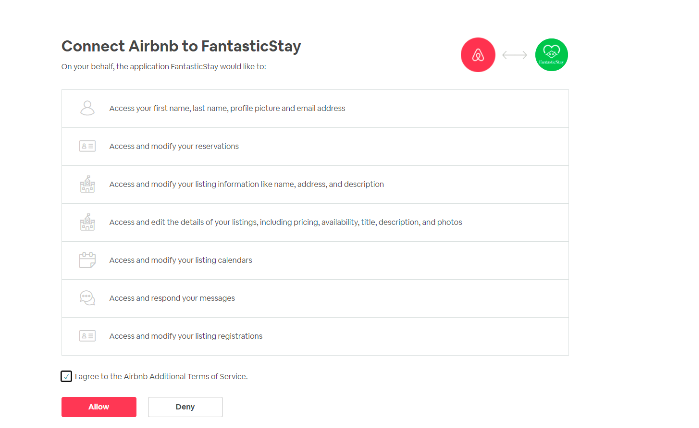 Agree to the Terms of Service and click 'Allow'

Once this is done, your Airbnb properties will be automatically imported on FantasticStay along with prices and reservations.

If you want to import a new listing from an Airbnb profile already connected to FantasticStay :

Go to the

Apps

section on your FantasticStay dashboard


Select Airbnb Upgraded




Select the Update button



Related Articles

Listing's Calendar Overview

Upon accessing the calendar for a specific listing, you are able to see the monthly revenue for the given listing, it's occupancy, and its average nightly rate at the top of the page as per the example below: If you have set specific revenue targets ...

How to push your new property to your connected channels

1) Create your property in Airbnb 2) Import your new property to FantasticStay by clicking Apps > Airbnb Upgraded > Upgrade on the relevant Airbnb account from which you created the new listing. After a quick synchronization, your new listing will be ...

How to change pictures in FantasticStay

As a property manager eventually you might need to change pictures for your listing, and you may have noticed that currently there is no specific section in FantasticStay for you to change them. This will change soon as a dedicated section just for ...

Excel Reservation Import

FantasticStay offers you the possibility to import a list of reservations from an Excel file The first step is to prepare your file inserting the following mandatory fields: Guest name Check-in Check-out Listing title Source The other additional ...

Reservations history

We know that having your Reservations history is important for many reasons. However, we are limited in what information we receive from the Channels. Airbnb We are able to pull your Reservations History for the last 6 months before the connection. ...