Listing's Calendar Overview
Upon accessing the calendar for a specific listing, you are able to see the monthly revenue for the given listing, it's occupancy, and its average nightly rate at the top of the page as per the
example
below: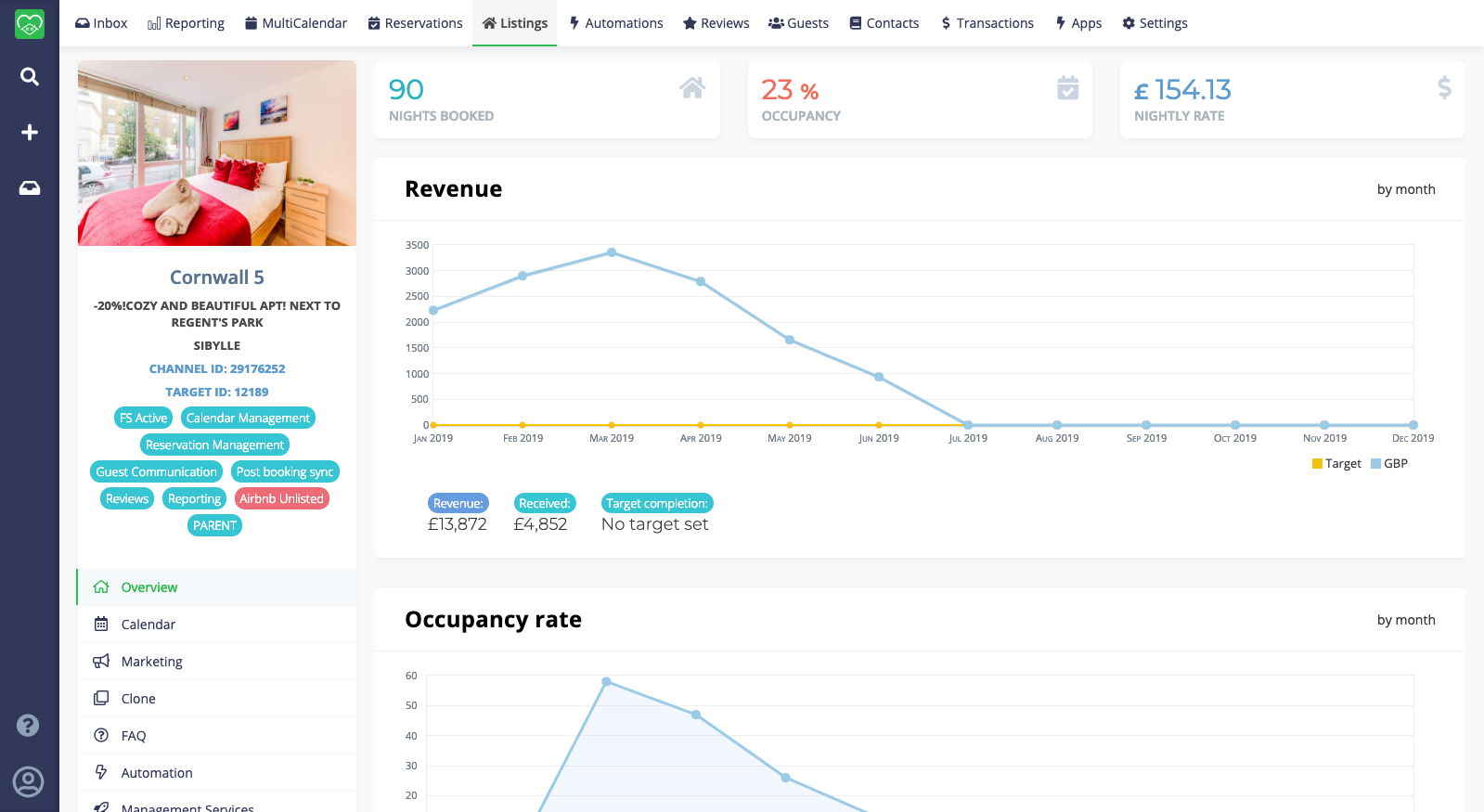 If you have set specific revenue targets from the
Management Services
menu on the left-hand side for the listing, they will appear a
t
the
top of your Calendar page

Does monthly revenue reflect on reservations booked?

While the occupancy percentage is determined by the actual number of nights that your guests have spent over the month, bear in mind that the revenue is also comprised of the money you have received from cancelled reservations for which your clients have already been charged a partial deposit or the full amount of the booking.

Right below the revenue's
boxes, you have access to the:
Calendar Log



This log keeps track of all the updates made to the status and prices of various dates within the month.
iCal



This feature lets you import and export calendars links. You can choose to have your calendars sync as often as every 10 minutes or only once per day.
Custom Stay Rules



If you wish to set a minimum number of nights per booking, be it for every weekend, as a one-time thing, or on a permanent basis, this feature will let you do that. Read this article to find out how to set up a minimum night stay rule.
New Reservation



This option allows you to manually add a reservation to your listing's calendar, provided you have access to all the guest information required.
By clicking on any of the dates on the monthly calendar of the listing you can also
change the booking prices
for said dates or
close them
if they're not going to be available to guests.
Related Articles

How to exchange icals in FantasticStay

As you know, FantasticStay is integrated with Airbnb, Homeaway, Booking and RentalsUnited directly via API, which is the most complete type of connection you can get (instant or almost instant synchronization of reservations, prices, content, etc.). ...

Smart Calendar Rules

The Smart Calendar Rules allow property managers to advertise one property as multiple listings, as well as one -this increases the opportunity for your listings to be shown in more results (accommodating the needs of different travelers' groups) and ...

How to change pictures in FantasticStay

As a property manager eventually you might need to change pictures for your listing, and you may have noticed that currently there is no specific section in FantasticStay for you to change them. This will change soon as a dedicated section just for ...

How to add a listing nickname?

To create or change the name of your listing on FantasticStay, follow these steps: Go to the Listings section in your FantasticStay dashboard Select a listing On the left-hand side menu, choose Settings Stay in the General tab Scroll down to the ...

How to set up your listing capacity

Setting up the correct number of the maximum number of persons you allow in your property is paramount and ensures a seamless synchronization across all your channels. Fundamentally, this number must be consistent between FantasticStay and all your ...